Yessir, you can win a
full color
marker sketch of your very own in the
BIG HERO 6
retailer raffle! How, you ask?! Read on for the details, friends:
First of all, thanks for the
huge
amount of positive feedback about the marker sketches I've been posting recently. If you'd like to get one for yourself, or if you're eagerly awaiting the premiere of
BIG HERO 6
#1, have I got the contest for you!
We've partnered with some of our favorite comic stores across the country to bring you this special incentive, and all you've gotta do is buy the comic. Simple as that. When you do, you'll be entered in the raffle for that store and, with a little luck, win a sketch like these: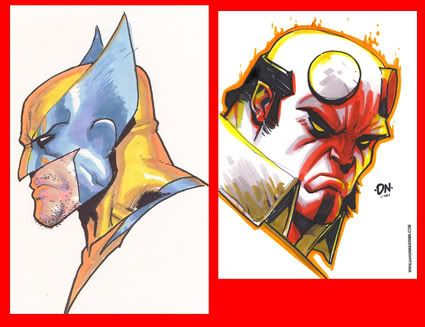 Here're some of the locations where you can enter the contest, with more to follow in future journals!
--Honolulu, Hawaii:
Gecko Books
808.732.1292
--Pasadena, California:
Comic Odyssey
626.577.6696
--Phoenix, Arizona
Atomic Comics
480.649.0807
You can actually enter in advance at Atomic Comics. Just look for a flier like the one posted above!
BIG HERO 6
is a 5-issue miniseries about Japan's premiere team of superheroes in the Marvel universe. Written by
Chris Claremont
and with art by
David Nakayama
and
Emily Warren
, the first issue comes out September 10th--check it out!